Kids love treasure hunts and it can also be fun with tasks in second language. If you invite friends or your students – kids and parents together – the English adventure can start. Parents practise their communication in English and children their understanding.
To make it super fun try to prepare the game for the night time – place candles or other lights where the tasks are hidden, give torches to kids and a great adventure can start. It can be even just in the back yard garden. Great also for Halloween.
I have a good experience with placing the tasks into the yellow Kinder Surprise Egg shells. They are easy to hide, fun to open and safe in case of rain or when hiding the tasks in the snow.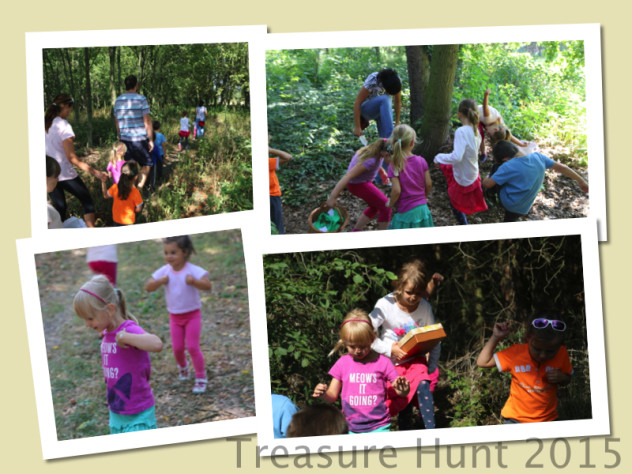 Treasure hunt tasks
Here are some of our tasks for your inspiration.
Play "Find something …" and touch the colors.

Find something green. Find something brown. Find something pink, …
Move forward and count.

10 jumps on right leg, 10 jumps on left leg, 10 jumps on both legs, …
Play "Touching game". Say to the others what to do.

Touch your nose.
Touch your hair.
Touch your head with your knee, …
Make pairs and play "High Five".  It goes: Give me five. Up high. Down low. Too slow.
Be a magican. Say: ABRAKADABRA…

 There are no children but butterflies,
There are no children but frogs, …
Find a cone and hit a tree.
You are a spy. Choose an object and say the color or/and shape "I spy with my little eye something….."  Others are guessing.
Sing a song "Head Shoulders Knees And Toes" three times and go from slow to fast.