"Positive emotion associated with English is what drives their interest to learn more."
At the beginning, I lost a lot of time and energy searching for the best tips how to introduce the English language to kids at home and finding courage.  And since small children just love singing songs that is where we have started. Very helpful was our collection in the video gallery. Pictures explained what is the song about and I did more explaining when singing together.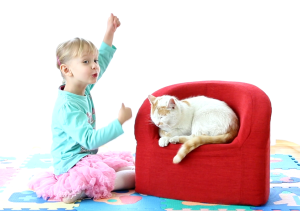 After a lot of searching, I have found great songs from Super Simple Learning that come with animated videos and are also available on CDs and DVDs  (priceless when traveling by car, our daughters engaged in singing and hand motions completely forget about her car sickness).
Combination of videos, audios and printed little helpful cards worked great and kids soon new the songs better than me. Now I try to practice English with kids on the regular basis.
I also recommend a visit to Super Simple Learning website and check their wonderful collection of songs and other materials.